THE HISTORY OF
Nytorv 11-13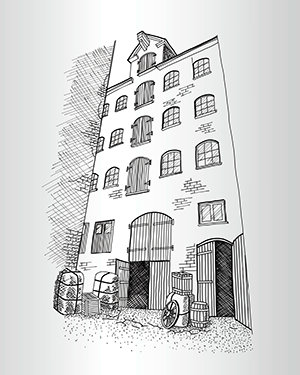 The landmark Neoclassical townhouse at Nytorv 11-13, today home to the Church of Scientology, was originally constructed in 1796 by merchant and brewer Jens Lauritzen. One year earlier, fire had consumed the Nytorv/Gammeltorv district, and city planning mandated the building's distinctive "broken corner" façade to allow long-ladder fire engines to navigate the city's narrow streets.
Throughout its history, the building has served a variety of uses: a paper factory, warehouse, brewery and café. The site further served as a private residence, and was home to a number of prominent Danes, including the king of Nordic poetry and author of our national anthem, Adam Oehlenschläger. Carl Christian Hall, a member of the original Constitutional Assembly and 32-year member of the National Assembly, lived here before going on to serve as Prime Minister in the mid-19th century.
After acquiring Nytorv 11-13, the Church brought new life to the landmark, restoring many historical features including preservation of the original wood staircase built in 1885.
Dedicated as the home of the Church of Scientology in May 2017, the building remains a significant tribute to the past and a herald of the future for Denmark.